Revenue Cycle Management Optimization For Tribal Healthcare
United South and Eastern Tribes (USET) is an inter-tribal organization that represents twenty-seven federally recognized Tribal Nations located from Maine to Florida to Texas. USET has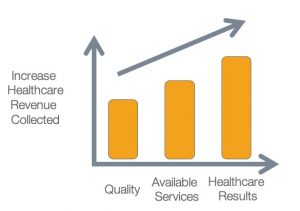 recognized there is an opportunity to improve the way Tribal Nations manage their revenue cycle.
Working together, USET and Encompass have partnered to serve individual Tribal
Nations to help optimize their healthcare billing process. All services are contracted through USET, a 100% Native Owned non-profit entity, and are provided to all American Indian and Alaska Native Tribes.
The primary goal of our program is to increase healthcare revenue collected by each tribe. Increased revenue and profitability supports the sustainability of clinics, increases the quality and availability of healthcare and leads to improved healthcare results for the entire community.
Revenue Cycle Management
As specialists in healthcare coding, billing, and collections, Encompass customizes the optimization process to meet the unique needs of independent tribal healthcare practices.
Program Benefits include:
Increase total billed and collected third-party dollars
Recover aged accounts receivable 
Increase efficiency in billing, coding and collections
Implement best practices
Provide training and education
Institute KPI's and reporting
Leadership Training
Supporting and equipping Tribal Clinical Healthcare Leadership is central to successful implementation and sustained long-term change. Encompass develops individual programs for healthcare directors that may be newer to their positions through to veteran healthcare CEOs looking for specialized training, analysis or support.
Healthcare Access
Consistent access to a robust range of top-quality healthcare providers can be a challenge for Tribal Nations. Telehealth promises to increase access to care for behavioral health and telemedicine. Implementation and management of providers and the required technology is being supported by Encompass for Tribal Nation partners.
Medicare-Like Repricing
Purchased/Referred Care (PRC) charges are typically billed at 100% rates. Medicare-Like Rates (MLR) repricing provides substantial out-of-pocket savings for clinics. Encompass uses State specific, real time Medicare fee schedules for both facility and Physician services. MLR repricing saves time and money for your tribe.